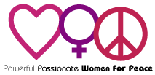 One night in a dream I saw women all over the world gathering on the new and full moon-- praying, chanting, lighting candles, singing songs, dancing and sending forth blessings of peace into the universe.

Each new and full moon-- wherever you are-- we ask that you take time to join us in a sacred circle and connect with the energy of the circle by sending out peace, love, joy, oneness into the world.
Sites:
-Powerful Passionate Women for Peace
-Joan Clark's Palais Aromaetica
- One World Flag
-DoingIt!-- a journal of positive living
-NCN
-PenMark Potions
-Rock and Roll Stories
Blogroll:
-Joan Clark's Palais Aromaetica
-Joan Clark on BoomerGirl.com
-One World Flag-- intl symbol of diversity
-Flemming funch's Ming the Mechanic
-Rock and Roll Grandma on BoomerGirl.com


8 May 2009 @ 15:50
Powerful, Passionate Women for Peace,

Full Moon Blessings!

A flower does not open before it is ready….

Today as I was looking outside my bathroom window watching the rain pour down I noticed that the tulips in the front garden were tightly closed. A voice inside my head said, "a flower does not open before it is ready. It knows deep within itself the precise moment in which it will bloom. This is also true for you as well. You must trust the universal process".

This was the exact message that I needed to receive today. For I have been going through so many changes and feeling that I must take action or else something (what I do not know) is going to happen. I've been experiencing a deep anxiety that has made me feel that if I don't hurry up and make a decision-- than something is going to happen and I may not like it. Ever feel this?

In these moments of great change not only in our own lives but in the world around us I believe we have been conditioned to feel that to take action is part of the solution.

Take action – some action to get things moving. However, what I am coming to understand as I move further away from aligning with the "fight or flight" mentality is we are always in the process of action. There is always movement going on and if we can trust this and honor the inward process that is occurring and is actually a part of the outer change that is happening we will be gifted with the soul-ution that will be for our highest good - and it will feed our souls and spirits in a new way because it is coming from love not fear.

The tulips today were the messenger for me. In the mist of change remember the flowers that are not yet blooming-- but are in the process of. They are in full trust of that divine moment when they will open up and share their exquisite essence with the world.

If you are like me, many things are changing – there is a sense of urgency on some things and other things seem to be put on the back burner. This sense of urgency is a reminder not a demand – and as we breathe into our wisdom we will recognize that we are in the process of change-- and when the decision to move forward and take action is right it will be in perfect alignment with everything around it.

This is what we can trust and this is what we pray for---the wisdom to trust our inner knowing. Everything has a divine time and I believe it is important that we place our trust and faith in this truth.


In this full moon in Scorpio - I invite you to call forth your intuitive wisdom. That wisdom that lies deep within the core of your soul - and to trust it. It is there for you and will guide you. It will allow old patterns of consciousness to leave so that new patterns of thinking, being and living can emerge.

We are moving away from our primordial thinking brain to our enlightened, ascended consciousness so to respond in a "fight and flight" mentality no longer serves us in ways it did before.

Think of the flowers when you are in the mist of change. Are you in the process of opening, awakening, manifesting change and waiting for your divine moment - then be in your joy - be present and have faith in the natural rhythm and alignment of the energy within and around you.

Trust that everything is --right now-- in divine right order and that the soul-ution will reveal itself as you honor the power of the wisdom and love that is within you.

I AM - and I hope you will join me as well. Let us celebrate and cherish the gift of Divine Timing as we bask in the beauty of the Scorpio Full Moon.



Full Moon Blessings & HAPPY MOTHER'S DAY GODDESSES!

Love,



Joan



12 Dec 2008 @ 16:55
Dear Powerful, Passionate Women for Peace,

Full Moon Blessings!

This morning when I opened my "you've got mail" box, Joan, a dear friend of mine had forwarded this message to me from the teachings of St. Michael the Arc Angel.

Beloved Ones! The 12th of December, will see the Earth pass through
the 12:12 gateway or portal which is in Time/Space. It will pass
through a Full Moon alignment where the latter will be in Gemini and
the Sun in Sagittarius. Gemini is the astrological house of the
"Twins", which in the New Reality represents the Energy of the 'Twin
Flame or Sacred Union.' With the Sun in the 'Fire sign of Spiritual
Passion,' represented by Sagittarius, and the Moon in the 'House of
Sacred Union' represented by Gemini, the fiery 'Passion of Sacred
Union' will ignite in the 'Hearts of those who are Awakened to this
Love' and will assist them to 'Expand the Love within their Field of
Experience and Perception.' These Ones will become the Leaders for
the next cycle of 'Conscious Evolution' into 'Deeper Aspects of
Divine Love' and its expression on the Planet.


After reading this message – I was really excited that all the changes, shifts, and illusions that are bombarding us at this moment are working and helping us to make more powerful shifts in our consciousness. They are working on our behalf so that we will unite with our own human and spiritual divinity. Now this is good news!

The twin flame- the divine union is not outside of us-- it is inside of us. The consciousness of divine love is inside of us – and the mirror that we are seeing outside of us – is so we can see how we are not in alignment with what is inside of us and therefore we can make the needed shifts to bring us in harmony. Our work is to shift our focus and intetnion to LOVE in all things. Love everything and be in gratitude.

The cleansing and clearing process that we are doing individually and collectively is for the growth of the world soul and for the uniting of the spiritual and human aspects of ourselves – into oneness conciousness of the twin flame.

Love within---love without. That is the spiritual energies and power of this full moon. The message of gratitude and love is what we can take in our hearts and be joy filled for. We are reaching toward spiritual maturity.

The human experience is getting spiritualized and each time we choose to focus on love we begin to merge our human and spiritual divinity into the oneness of the --I AM.

In this full moon – join me in creating an energetic field of love around the planet. Hold with me the thoughts of abundance, prosperity, joy, union, oneness, health, wholeness, peace. These are our soul mates – these are the energies we seek to live and experience in ourselves and then in the world around us. Let us open our hearts to Love's presence more fully during this moon cycle. In doing so we will perhaps begin to understand that the merging of the human and the spiritual parts of our Being creates the divine flame of oneness.

Now that is Great Full Moon News!

As always ----Goddess Blessings are upon us. So Be It!

Goddess Prayer Requests:


Vicky and Dick - for physical healing and wholeness
Mark - for economic abundance and stability
Peggy - for joy and happiness as she has made her transition to the higher realms.
For everyone in this circle to have all thier needs met and for the power of Love to transform thier lives.

As always, for the poor of spirit, the sick, the homeless, the children, the elderly, the young men and women in the military, the planet, for families, for husbands and wives, for any living energy that is out of harmony and balance to be aligned,for the animals domestic as well as wild and for the plants and the spirit within those plants that feed our bodies, minds and spirits.

Let us pray for more joy, to fill our hearts!

Blessed Be!



13 Nov 2008 @ 14:55
Dear Powerful Passionate Women for Peace,

Goddess Blessings on this full moon in Taurus – an earth moon to connection us to our blessings, our gratitude and our connection to the dreams that we are beginning to assemble from a new place of hope within our hearts.

It's been such a dramatic energy shift these last few weeks and some of us are still on that "YES WE CAN" high. There is such joy and love vibrating all around us and with so much of that energy I believe we are standing in the mist of "miracle moments".

In the course of Miracles it states that "miracles are everyday occurrences". If this is true, which I believe it is – then it's time we start calling those miracles into us and start fully believing that it is possible and most of all --- it is possible for YOU.

The feeling of heaven is so close. Never in my life time have I felt it so near. Never have I seen people in challenges so brave – not playing the victim but the warrior. Never have I seen so much love coming forth from people who embrace the oneness of the whole and all of its different colors, shapes, sizes, beliefs.

I truly know in the depths of my heart that we – have changed as a nation and that all that is good within us is shining forth.

In this full moon please stand with me and give a blessing of gratitude for all who have held the vision for this moment, for all who have dedicated their lives to this moment and for everyone who will not let anything destroy this moment – of more peace, love, joy, oneness, health and abundance for all.

Happy Full Moon – and May you become more of the living presence of Love that you are!

Goddess Prayer Requests:

Please pray for Dick Brenner who is working with becoming healthy and whole while he is working to eliminate the energy field of cancer.

Please pray for Vicky his beloved companion who is helping assist in this healing process.

Please pray for more Peace to prevail in the hearts of those who are grieving for loved ones.

Please pray with an open heart that anyone this day that needs love, comfort, healing, peace of mind, and support in any way receives it.

Please pray in joy and gratitude for the healing that is taking place in the hearts and minds of humanity.



5 Nov 2008 @ 14:02
Dear Powerful, Passionate Women of Peace,

Today I am proud to be an American. I am full of gratitude and giddy with excitement for I believe that as a collective consciousness we moved toward oneness and away from separation.

Together we passed that invisible line that kept us trapped in old ways of being and we freed ourselves from the past beliefs-- the illusion-- that we are separate.

Together we embraced the truth of who we really are-- a collective oneness.
We realized that we are stronger together. And last night we caught a glimpse of the power we have to create change: the limitless potential that is ours when we stand together and look past what has been and look toward to what can be.

There is a new spirit not only in America but in the consciousness of humanity.

I believe we have taken a giant step towards Peace-- inner and outer. We have let go of living in the stories of the past and moved into present-moment, where everything is created and where our new future begins to take form.

My husband, who is the originator of the "One World Flag", created a slogan that states, "because we have more in common as a world...then we have differences between nations". This creed has set a vibrational frequency for years now, and in my opinion has been instrumental in holding the vision for what is unfolding today. He and many other visionaries before him, and those that will come, have been holding this truth-- and now we have seen it come forth.

Hope, faith, trust, and love is being re-kindled in new and powerful ways.

Today is a historical moment in time and one I am going to cherish in my heart. A consciousness-- a long-awaited human consciousness-- has become spiritualized. Hearts and minds not only opened but were changed alchemically by this amazing collective experience.

We not only stepped up as a nation last night-- we stepped up as spiritual beings having a human experience. The change inside of us became mirrored in the world last night.

All I can say-- in the spirit of new administration-- is... "Yes we can!" God/dess Bless America!!

Peace IS!

More >



17 Jul 2008 @ 20:22
The Full Moon in Capricorn
Rules Authority Figures, Traditions, Respect

Tonight as the light of the full moon began to shimmer down and grace our land with its illuminating essence-- here at Luna Bella I found myself being drawn to the garden to gather some of our Sage plant.

I could feel the presence of grandmothers around me as I knelt down before the plant to ask permission to cut some of it --"gently, I heard, listen as you gather, breathe deeply, allow the wisdom of the plant spirit to guide you and don't forget to leave an offering". I felt like I was being groomed in plant spirit etiquette and that not only was the essence of the sage plant calling me the grandmothers were as well.

So I took a deep breath, invited the grandmothers forth and then asked the spirit of the sage plant--- "What is it that you desire of me? How do you wish to be honored? What form do you want to move into as you become a healing medicine"?

"Gather us in bundles and use us for medicine sticks (smudge sticks)" was the message I heard from the spirit of the plant". "Wrap them in different color ribbon and listen as you work with the cuttings. The plant will tell you how they can best serve and how to use them, I heard a grandmother whisper"


As I laid the plant cuttings before me and began to divide them up I took a moment and asked the plant spirits to guide me on the best way to prepare them as sacred tools. The first group of sage cuttings I picked up I wrapped with green ribbons and could feel that this group was for a ceremony that would involve working with the energy of the heart center. Cleansing and purifying. Forgiveness and release work.

The second group I wrapped with orange ribbons and I sensed that these bundles would be used for ceremonies for the earth and working with the medicine wheel.

The next two groups of sage plants were wrapped with pink ribbons and these would be used for birthing rituals.

The last few sections were wrapped in royal blue ribbons and would be used in rites of passage and initiations in to the sacred moon mysteries for the three phases of Goddess-- Mother, Maiden and Crone.

With each bundle I could feel the grandmothers guiding my hands --showing me how to wrap--where to cut--what words to chant or blessing to weave into it each one as well as what crystal/s I was to place on them.

After all the medicine sticks were finished I was guided that I was to leave them in the light of full moon so that they could be anointed with it's light and energy.

Upon completion and before retiring into the house I spent some time gazing at the moon and realized what I love so much about the different phases of the moon. I love how the moon speaks to the medicine woman inside of me and reminds me of all the woman who have loved the earth so dearly and passed forth thier knowledge and wisdom. The different moon cycles allows me to stay connect to my wisdom heart and reminds me of the power of woman's magic, her lore, our history and our connection to one another.

In this Capricorn full moon I hope you will spend time with the grandmothers and receive the wisdom they want to past forth.

I encourage you to work with the essence and energy of the Sage plant. Smudge your sacred environments and your body temple with its healing smoke. Drink some sage tea,take a sage bath or drink some sage tincture before going to bed at night and ask the plant to teach you about its healing properties,and how you can best receive its medicine at this time in your life.

Sage is the plant spirit that called me to come forth to work with it and I trust it is calling you as well. It's an invitation to all of us to feel more connected to the earth and her blessings and the "SAGE" wisdom inside of us --as we hold the vision for more Peace, Love, Light, Joy, Health and Oneness! Blessed BE!



Full Moon Blessings,

Joan

To purchase sage essential oil, tincture or smudge sticks, please go to www.joanclark.com More >



8 Jul 2008 @ 23:01
Dear Powerful Passionate Women Of Peace,

I would like to invite you to look over the below information on the Sacred White Buffalo (and encourage you to go to the website and view these beautiful animals). If after reading and vieiwng you feel moved to donate, support, hold in prayer this request for assistance, it will be most appreciated.

Sacred White Buffalo
[link] and www.myspace.com/sacredwhitebuffalo.

Jim and Dena Riley are the guardians, keepers and caretakers (and owners) of NINE Sacred White Buffalo, located at their White Buffalo Sanctuary at Spirit Mountain Ranch, 20 miles north of Flagstaff, Arizona. A place that has been available for people of all nations to visit, honor, and offer prayers.

Tragically, our beloved Jim Riley died suddenly of a heart attack on Saturday, April 12, 2008. He was 64. He gave his life for his cherished White Buffalo and he understood their message and their mission. Both Jim and his beloved wife Dena have invested their life and savings for their White Buffalo family and to be able to share them with the world. Their gift is immense.

The nine White Buffalo include: Miracle Moon, born in 1997; Rainbow Spirit, born in 2000; Mandela Peace Pilgrim, born in 2001; Arizona Spirit, born in 2002; Sunrise Spirit, born in 2004; Spirit Thunder, born in 2004; Chief Hiawatha, born in 2005; Lucky Star, born in 2006; and White Spirit, born in 2007. And FIVE of these NINE are due to have babies in May. The herd has been DNA tested and are 100% pure North American Bison. There has never been a White Buffalo herd in history!

Our responsibility is not only to take good care of the Sacred White Buffalo but also to protect these very special and exotic rare animals. They are considered "Religious Miracles."

WE ASK FOR YOUR HELP AND SUPPORT.

The Sacred White Buffalo need a new home. The family of the Sacred White Buffalo has grown at the Spirit Mountain Ranch and have outgrown the original small space. In addition, the conditions at this location are harsh. The elevation is over 8,000 feet and all food and water must be trucked in which is extremely costly. There are no utilities except a generator to supply electricity.

At the time of Jim's death, Jim and Dena had been in the process searching for new land that would meet the requirements of the buffalo and where they would be allowed in the area. Our mission is to SECURE A NEW LAND AND TO RELOCATE the Sacred White Buffalo herd to a place where they can eat living grass and have readily available water. A place that is climate appropriate and where they can have lots of space to "Run Like the Wind." Northern California is our preference, but we are open. In addition to securing land, there will also be the additional expenses for food, water, care, relocation, and new setup expenses for both the Sacred White Buffalo herd and their caregivers.

In the legend of the Sacred White Buffalo Calf Woman of the Native Americans, "the birth of a White Buffalo is an omen of universal significance." The legend says:

A woman of great wonder appeared to the people of the Lakota Nation during a time of great change and suffering and offered them hope. As a symbol, she gave them a Sacred Pipe to teach them the Sacred Way; and that through their prayer of the Smoke to Waken Tankan, Great Spirit, they would know the Creator, that he hears you; and you come to understand that all things are sacred. She also told them that She would return again…when there was a time of great need…. And Her return would signal a time of unity and goodness among people of all nations and colors. She is called White Buffalo Calf Woman because after giving the people this gift, she changed into a White Buffalo Calf…

There are 13 Native American Nations that continue to honor these teachings to this day. The Sacred White Buffalo are now returning at this time of the Turning of the Ages to give us the message that there is a new hope…and a New Earth of Peace and Love.

At their peak, the American bison or buffalo numbered about 80 million; and the odds of a white, non-albino being born were about one in 10 million. There are only about 130,000 buffalo now and the odds are even less, but the White Buffalo are flourishing.

THE SACRED WHITE BUFFALO CONTINUE TO BLESS US WITH ADDITIONAL SACRED WHITE CALVES. THE MESSAGE AND SYMBOLS ARE CLEAR: ♦THE FULFILLMENT OF A PROMISE IS NEAR. ♦WHITE BUFFALO CALF WOMAN IS RETURNING. ♦THIS IS A TIME OF HOPE FOR RECONCILIATION AMONG ALL PEOPLES….FOR PEACE….AND FAITH IN OUR FUTURE.

WE ASK FOR YOUR HELP AND SUPPORT.

FOR DONATIONS and other proposals:

We are now able to accept donations for the White Buffalo Sanctuary through the Sacred World Peace Church [(501)3c].

Make checks out to: Sacred World Peace Church, with a memo: For The White Buffalo.

Mail to: Sacred White Buffalo c/o Sacred World Peace Church , 35 Pebble Drive, Sedona, AZ 86351.

Donations can also be made at: [link] directly.

CONTACT: Cynthia Hart-Button at 928.284.4275 or cynthia@SacredWorldpeacechurch.com or mystichart@msn.com.

FUND RAISING:

A "World Peace Sacred White Buffalo" benefit CD is in the early planning stages. Also, there have been suggestions for fundraising concerts in Los Angeles and Arizona recommended by many notable musicians that have been so spiritually moved that they want to reach out and be a part of the White Buffalo's survival BIG GIVE. Participants are invited.

FOR MUSIC AND EVENTS, PLEASE CONTACT: Charles Button of Sacred Mountain Records at 928.284.1024 or charles@SacredWorldPeaceChurch.com or charlesbutton59@msn.com.


©2008 Sacred World Peace Alliance. 501(c) (3) All Rights Reserved.






3 Jul 2008 @ 03:56
For it isn't enough to talk about peace. One must believe in it. And it isn't enough to believe in it. One must work at it.
— Eleanor Roosevelt



3 Jul 2008 @ 03:51
"The way of peace is the way of love. Love is the greatest power on earth. It conquers all things."
-- Peace Pilgrim





3 Jul 2008 @ 02:59
Nurture the Goddess of YOU!

Dear Powerful, Passionate Women of Peace,

In this new moon energy in the sign of Cancer I sat with the grandmothers in meditation and they shared with me the power of self nurturing,forgiveness and self love.

A woman's wisdom and joy comes from her ability to shower love, compassion and forgiveness to the people and world around her. For these gifts to be fully received as authentic blessings, however, a woman must first offer these same blessings to herself.

How many of us take the same amount of care, and put the same amount of love or offer the same amount of compassion and forgiveness to ourselves as we do to the people in our lives?

In this new moon, in the sign of Cancer that rules nurturing, mother energy and unconditional love, I encourage you to pamper yourself with some of the same beautiful gifts that you so generously offer others. Take time to support, bless, love, forgive and show compassion to yourself. Make YOUR life the priority.

Take time this moon cycle to really celebrate the instinctual mothering energy that is within you and that is always there waiting to nurture and care for you as well as others. I suggest you begin each day offering to yourself first, what you so naturally offer and grace others with.

This is what the grandmothers desire for us to expereince in this new moon energy; they ask of us to honor ourselves and bless ourselves first. They want us to remember to love, forgive, have compassion and to place ourselves first on the "to do" list. Women Know Thyself - Women Care for Thyself First!

I firmly have come to believe that women who know how to care for themselves are filled with more joy, creativity, and sense of purpose. They know they are the creative life force and that they are the keepers of the sacred vision for the earth. They know how to experience pleasure and how to call forth what they desire to manifest and create.

I invite you to join me in this new moon --as I promise to make myself a priority I ask you to do the same. I know that by honoring this comittment we will become a more loving, supportive, nurturing, compassionate and forgiving presence that will bless the world in ways that we can not even imagine. When we are more present for ourselves then we will be able to be more presnet with others and the world around us. For as within - so without.

Blessed Be!

New Moon Blessings!

Joan Clark



1 May 2008 @ 14:53

Let's Stand & Rattle for Peace –

The other day I got an invitation in the mail to participate in the Standing Women's ceremony that would be conducted at one of the local parks in our community on Mother's Day – May 11th.

I was so excited about this that I wanted to pass it along to everyone I knew. It is a beautiful tradition that is being created and I hope it will inspire all of you to do the same.

Below is the story of how it got started, how you can join us and where you can find more information.

I hope you will be standing with me and all your loved ones. Take your rattles and rattle for peace, change, and unity.

Here's how it all got started:

Sharon Mehdi wrote a wonderful short story for her five-year old granddaughter, The Great Silent Grandmother Gathering

A quick summary of the story is:

A busboy who worked in a café whose window faced the public park noticed that two grandmotherly looking women had been standing in the park all day without moving at all and without talking. They were dressed up in their Sunday best and were just staring at the town hall. He asked the other patrons in the café what they thought the women were up to. They speculated on a variety of things. Then, a five-year old year who was in the café spoke up and said "One of them is my grandmother and I know what they are doing. They are standing there to save the world." All of the men in the café hooted and howled and laughed. On his way home the busboy decided to ask the women what they were doing and sure enough their answer was "We are saving the world."

Over dinner that evening the busboy told his parents and he and his father hooted and howled, but his mother was totally silent. After dinner, the mother called her best friends to tell them.

The next morning the busboy looked out the café window and the two women were back, along with his mother, her friends, and the women who had been in the café the day before. All were standing in silence staring at the town hall. Again, the men hooted and howled and said things like "You can't save the world by standing in the park. That is what we have armies for," and "everyone knows you have to have banners and slogans to save the world--you can't do it by just standing in the park."

The next day the women were joined by the women who were in the café the day before and a number of their friends. This brought the local newspaper reporter to the scene. He wrote a derisive article about the women. The day after it appeared, hundreds of women showed up to stand in the park in silence. The mayor then told the police chief to make the women leave because they were making the town appear to be foolish. When the police chief told them they would have to disperse because they didn't have a permit, one of them responded that "we are just individuals standing in our public park and we are not giving speeches or having a demonstration so why would we need a permit." The police chief thought about this and agreed with them and left the park.

At this point 2,223 women including the mayor's wife, the police chief's wife, and one five-year old girl were standing in the park to save the world. The news quickly spread and soon women were standing all over the country. The story ended with women standing in every country throughout the globe, standing to save the world. See www.grandmotherbook.com.

This is from the website – www.standingwomen.org
Please stand with us for five minutes of silence at 1 p.m. your local time on May 11, 2008, in your local park, school yard, gathering place, or any place you deem appropriate, to signify your agreement with the statement below. Please stand at a different hour with a different time zone if 1 p.m. is not your preferred time.We ask you to invite the men who you care about to join you. We ask that you bring bells to ring at 1 p.m. to signify the beginning of the five minutes of silence and to ring again to signify the end of the period of silence. During the silence, please think about what you individually and we collectively can do to attain this world. If you need to sit rather than stand, please feel free to do so. Afterwards, hopefully you and your loved ones can talk together about how we can bring about this world.
WILL YOU STAND WITH US?




Page: 1 2 Older entries >>
We invite you
to join us
in this goal for Peace
across the world:
one woman,
one prayer,
one blessing at a time.
Previous entries
2008-05-01
2008-04-20
2008-04-07
2008-03-27

Recent Comments:
2008-11-05
2008-07-18
More ..

Mon
Tue
Wed
Thu
Fri
Sat
Sun
1
2
3
4
5
6
7
8
9
10
11
12
13
14
15
16
17
18
19
20
21
22
23
24
25
26
27
28
29
30
31